I am giving you a pic fest today, partly to get you caught up on some of what I have been making recently, but also because my camera seems to be playing up- the batteries won't last more than a shot or two...maybe it is the batteries?? Oops, I have revealed my techno idiocy!!Well ,it was bound to surface sooner rather than later! BUT I am starting a computer course on Tuesday, so I am sure I will be dazzling you with my technical brilliance soon...possibly...or not!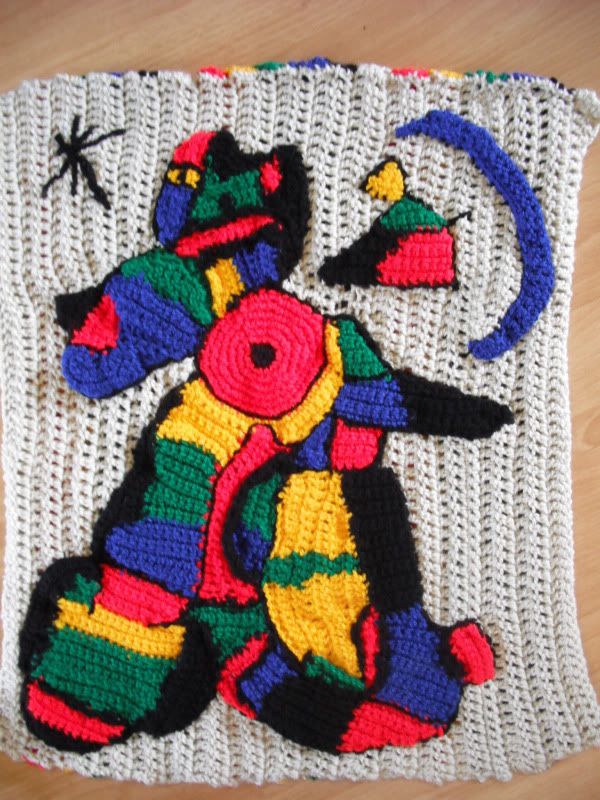 Ok ,looks bonkers eh? BUT it is a cushion cover for my Dad who went to see the Joan Miro Foundation collection in Barcelona and was really struck by The Foundation Tapestry so if you have a look hopefully it will make sense. The original piece is huge "750x500cm" wow, I can see how something just that size would stay with you.
Some braids I made a good while back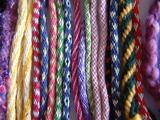 They are mostly Kumihimo- a Japanese emmensely complicated and fascinating braiding system (which can be made in a simple way with a foam board) .I find it amazing that you can just alter the order of the colours and make ace patterns...see the hearts? and the daisies? and diamonds? (All done with instructions, please don't give me all the credit!)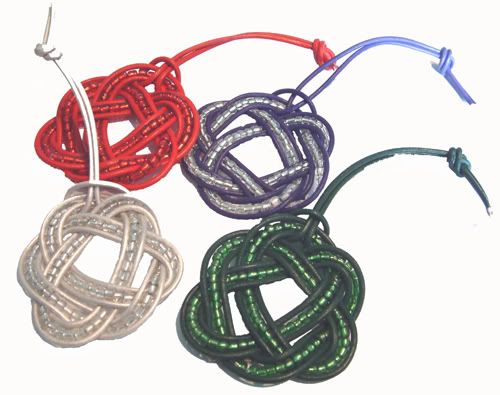 One last one, I had forgotten about these until a conversation with a friend yesterday about Christmas decorations, she still uses these every year! They are leather and beaded celtic knotted tree decorations.Fiddly to make, but I love how they turned out.
Will that do for a bit?